Description
Chamber vacuum sealer. VCC02. It can be used with different types of food, such as dry, wet, powdered or even liquid sauces. Compatible with a variety size of bags.
VCC02 is made of 304 stainless steel, durable and strong. 
Extra thick acrylic cover preventing air leakage. Reduce vacuum time
The heat of the seal strip can be customised to suit the type or amount of food

ACTUAL SIZE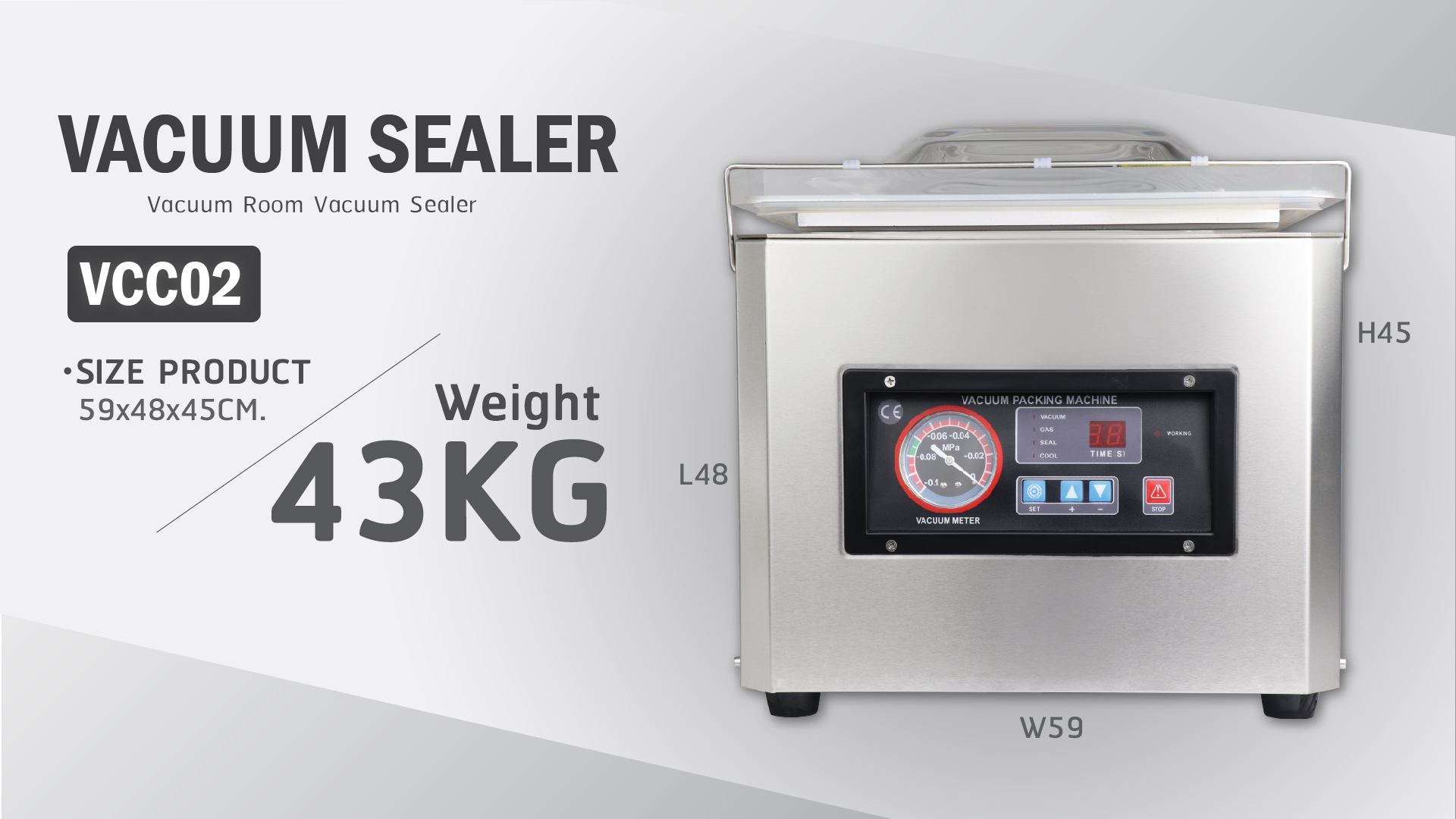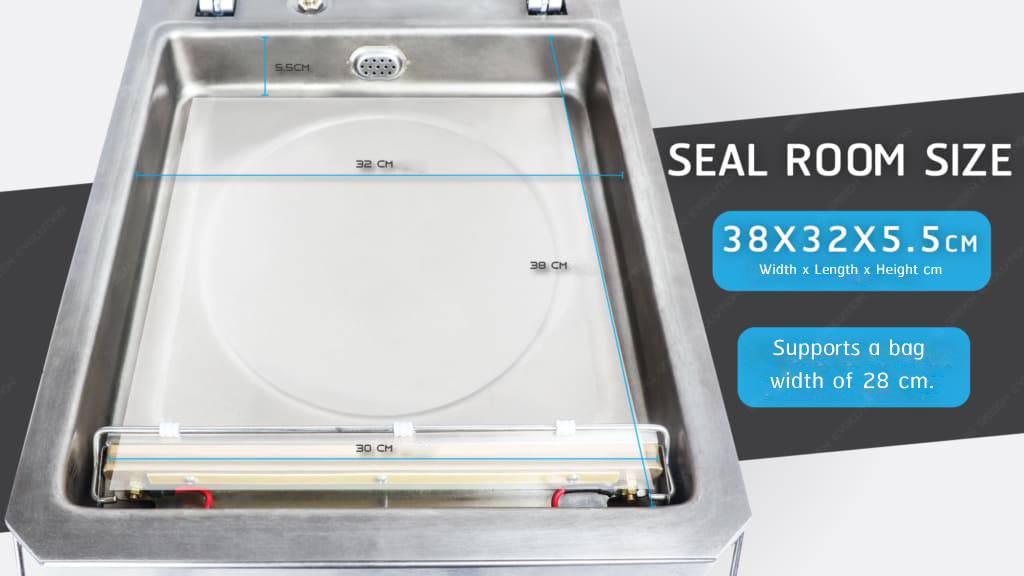 FEATURES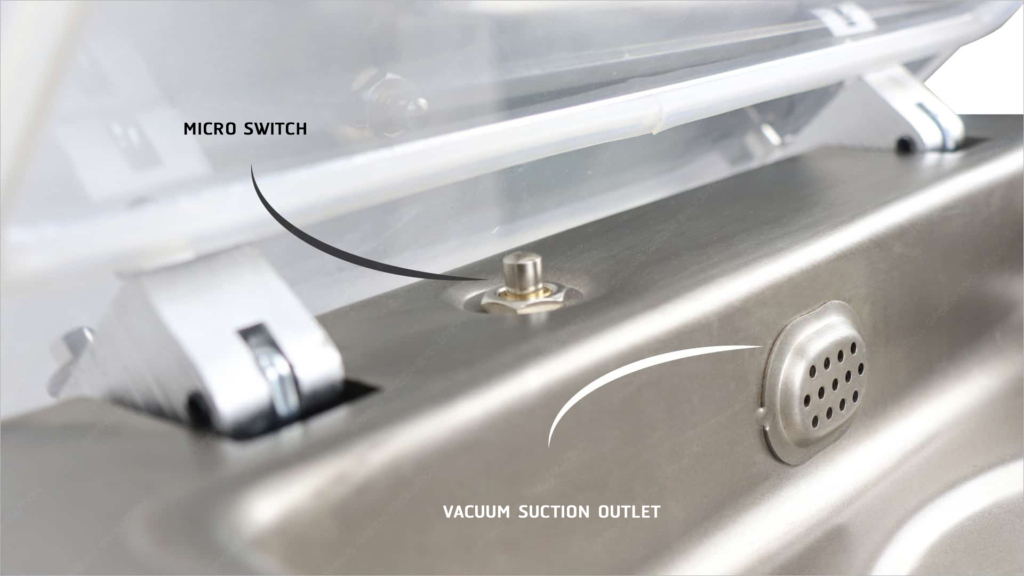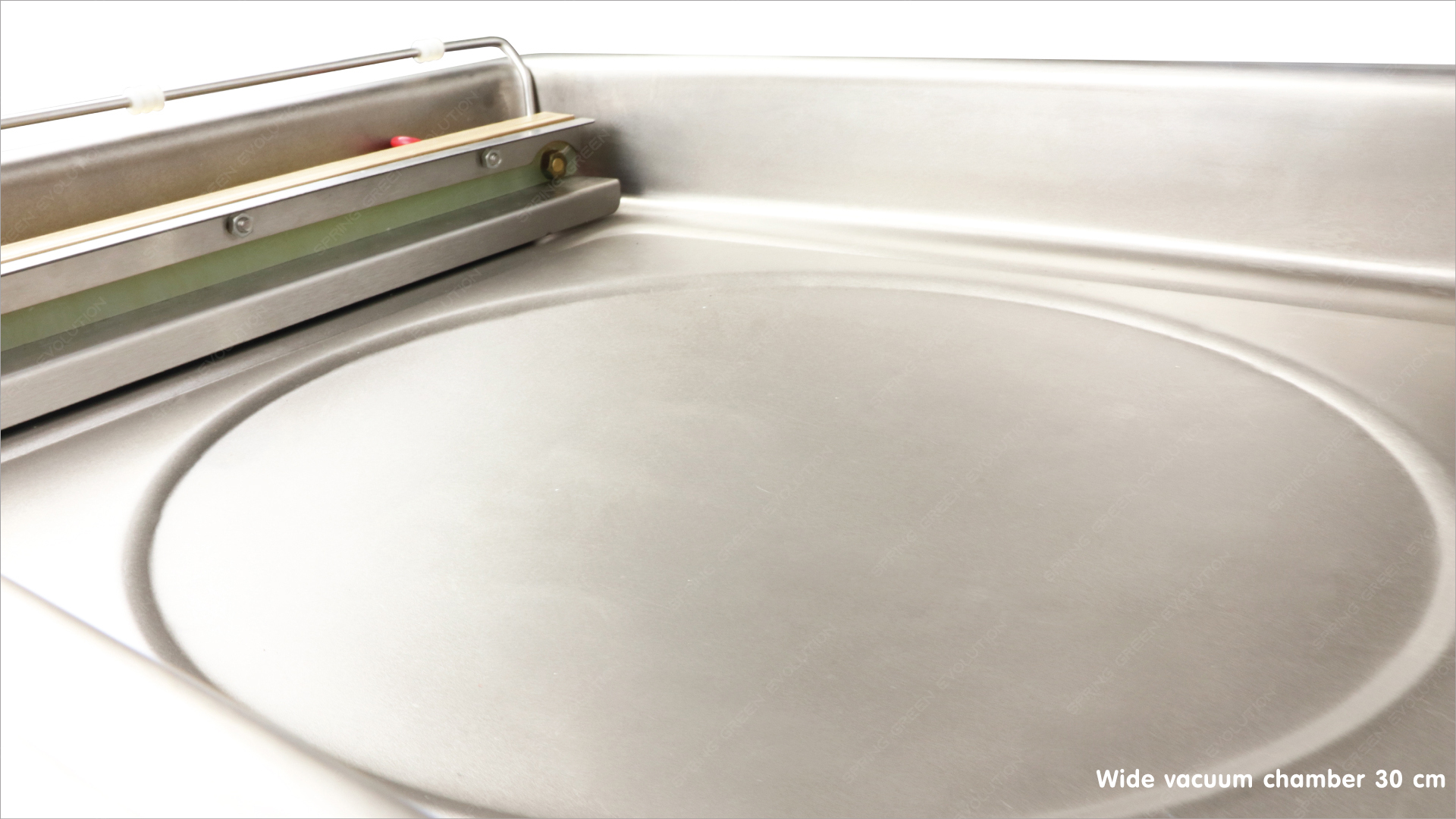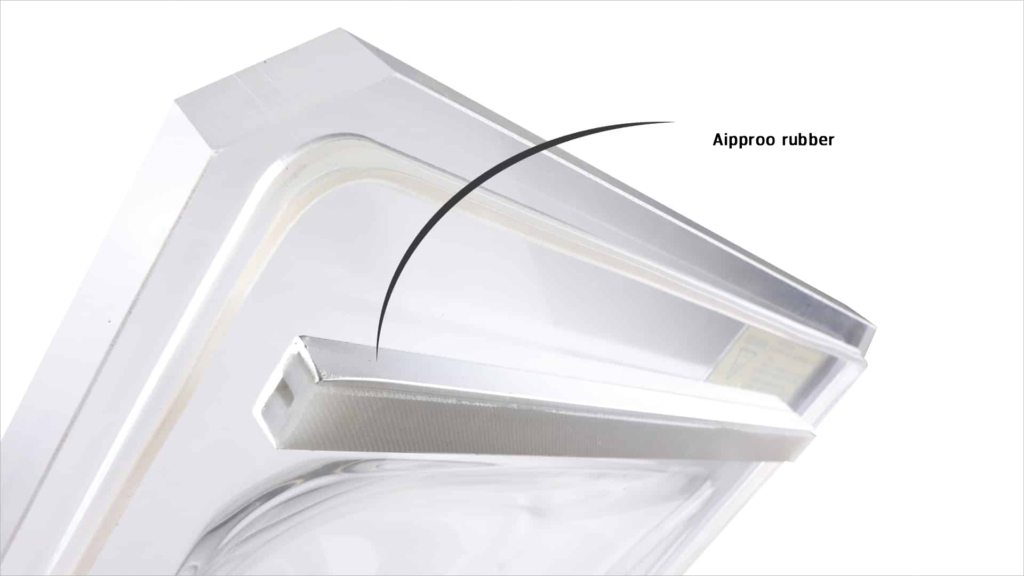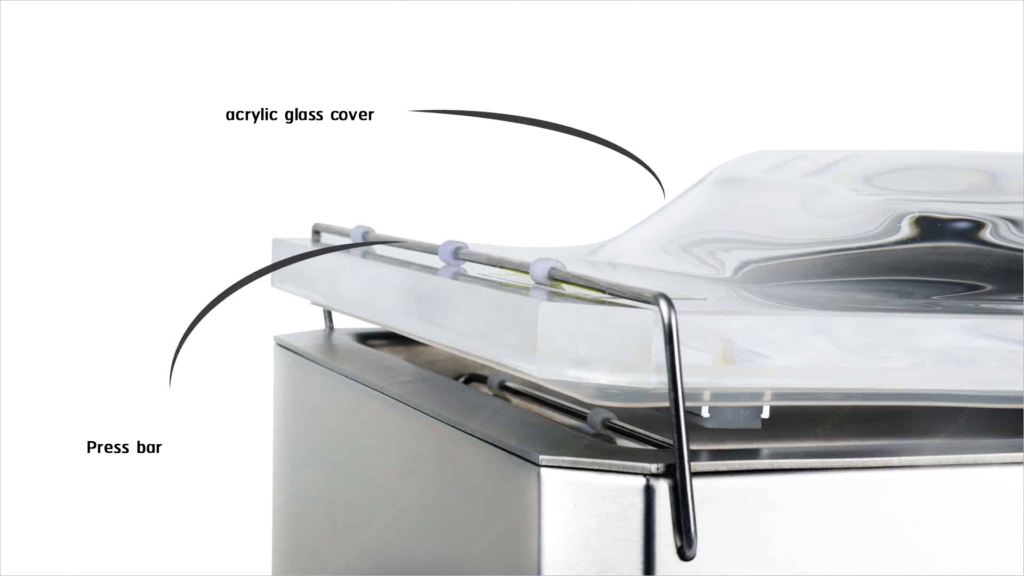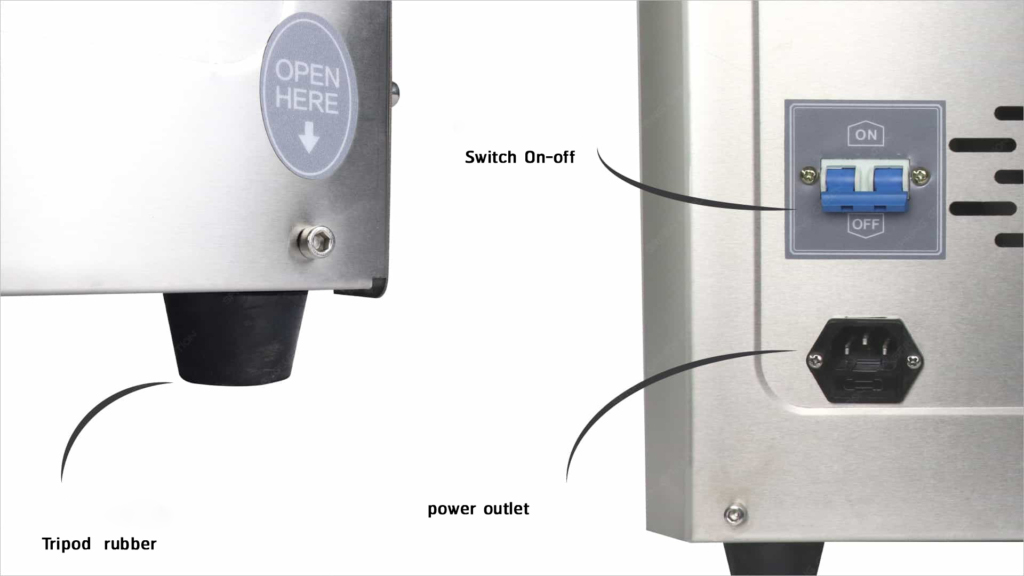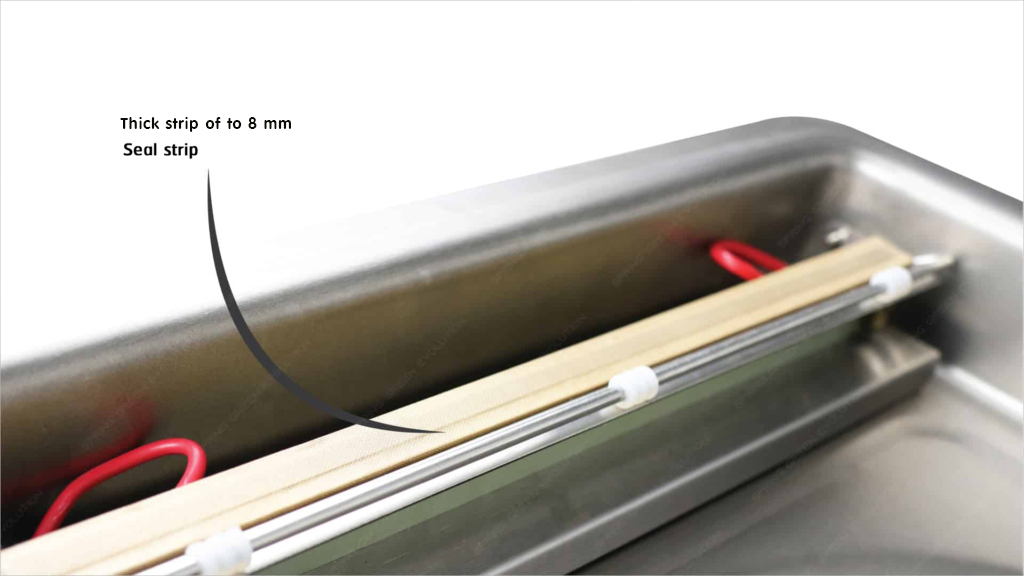 Our vacuum sealer There are many more to choose from.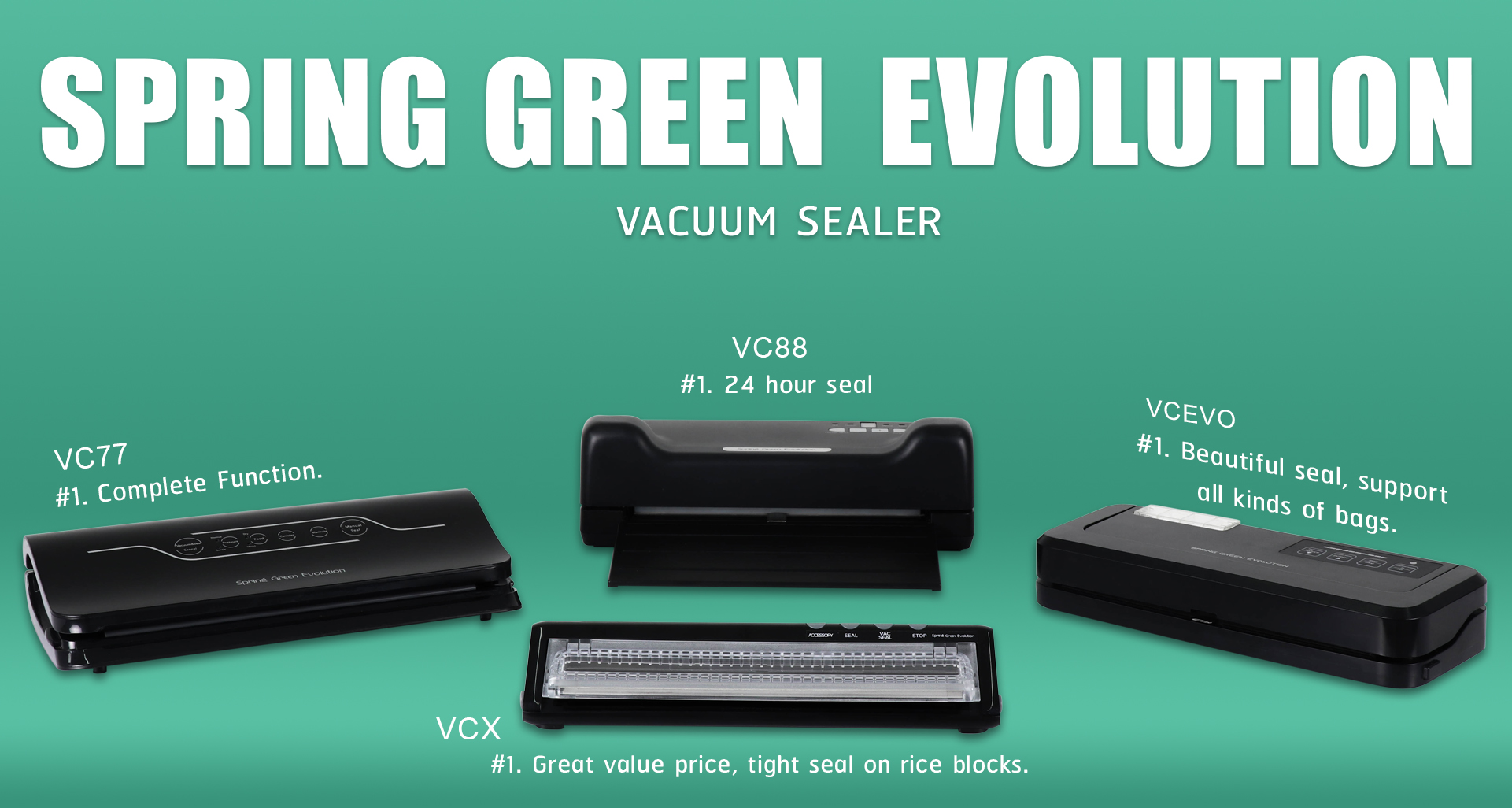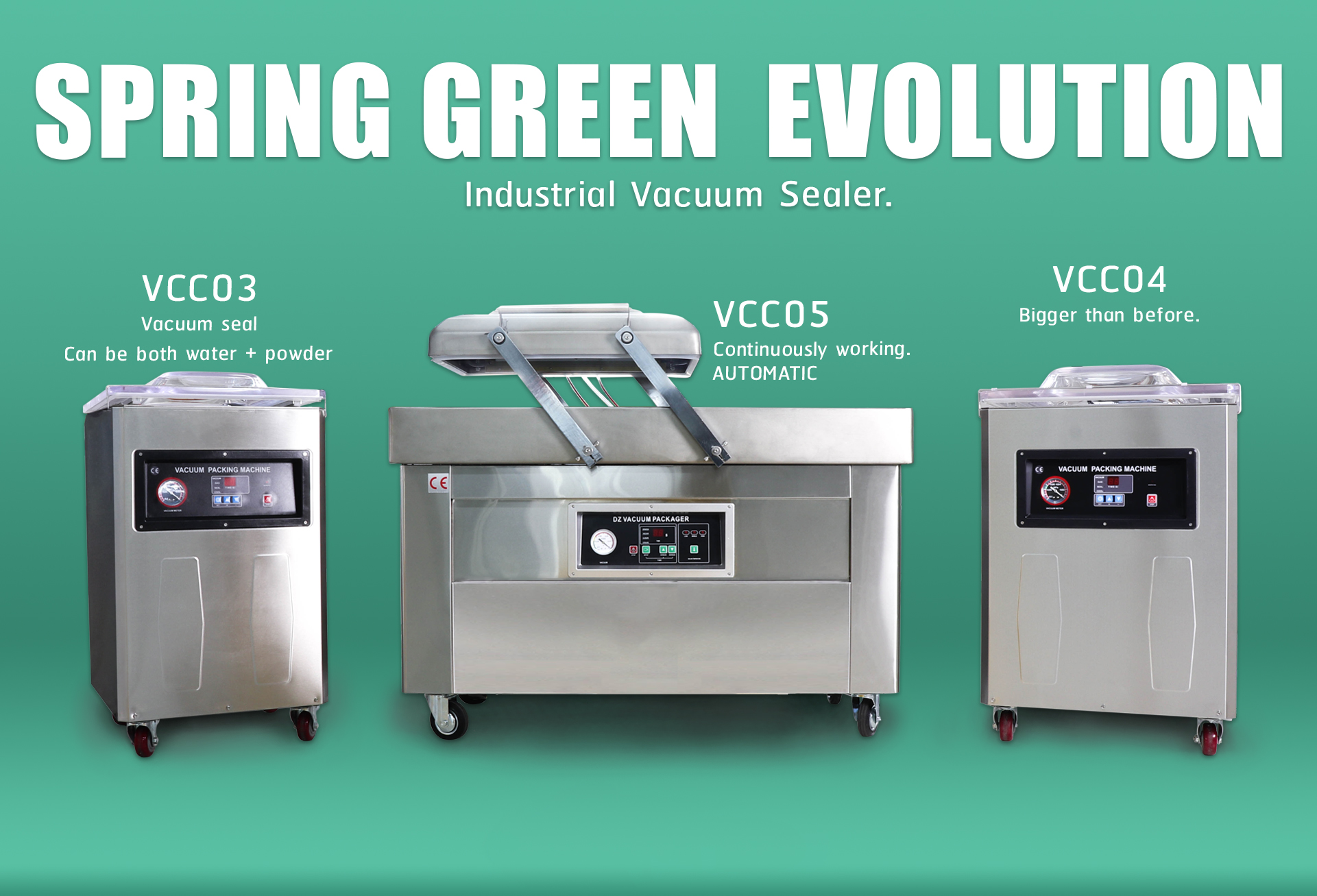 How good is the SGE vacuum sealer?
1-year product warranty

7-day replacement warranty.

An experienced team to look after and advise throughout the use.

Technician team ready to support and solve any problem

Stock spare parts to support your order anytime

Nationwide delivery

Product assessment before shipping.
HOW TO USE?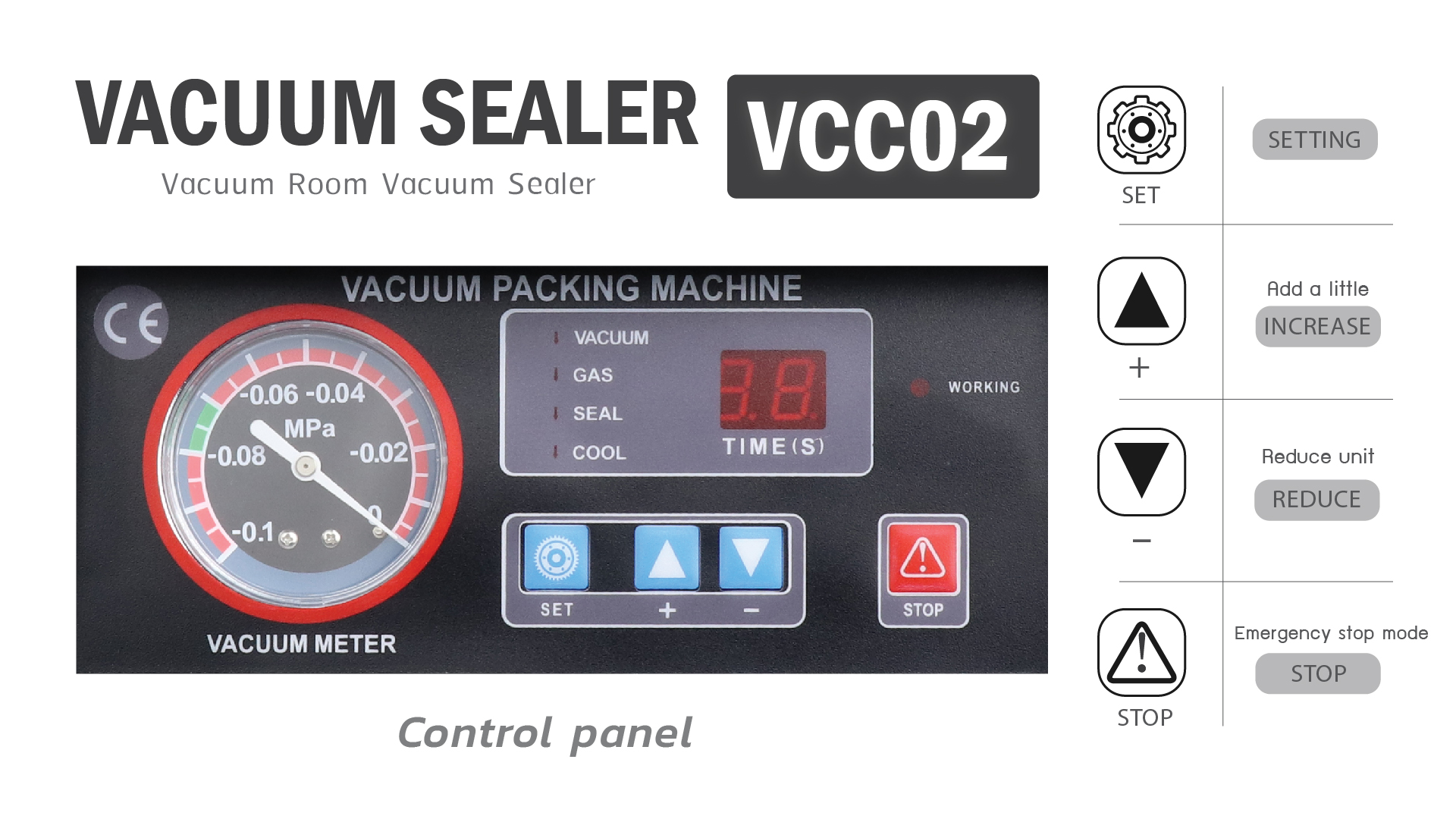 HIGHLIGHTS 
The most universal vacuum sealer

.

The machine is made from grade 304 stainless steel. All parts

Free up to 1 year full warranty

(Warranty terms do not include wear and tear from use)
Width of the seal strip can support up to

30 cm.

Save space for storing food and keeping in the fridge.

The vacuum seal can be used with all

kinds of liquid, dry, cream or even powdered products.

Can be used to seal all types of bags such

as Hot bag / Cooler bag / Side pleat bag / 

Vacuum seal bag

And other general bags, such as foil bags, aluminium bags, kraft bags, just adjust the mode to suit the usage and bag material.

Can determine the strength of the vacuum suction For fragile food 

Vacuum sealer Can be used with

acrylic rice seal blocks

to seal rice in beautiful square shape, preventing moths and insects

Suitable for factories and restaurants that want to maintain product quality.

The seal strip is up to

8 millimetres

thick, ensuring no air in or out in any way.

Supporting 220V home power. Just plug and use.
SPECIFICATION 
| | | |
| --- | --- | --- |
| Details | VCC02 | VM300 |
| Voltage | 220V | 220V |
| Power | 400W | 400W |
| Vacuum pump | 700W | 700W |
| Machine size | 50(L)*39(W)*40(H) | 49(L)*32(W)*45(H) |
| Chamber size | 38*32*5.5cm | 38.5*28*5cm |
| Display mode | Digital PID | Digital PID |
| Material | Stainless steel | Stainless steel |
| Weight | 43kg | 35kg |
| Air pressure | -1bar | -1bar |
| Sealing length | 30cm | 26cm |
| Sealing thickness | 8mm | 8mm |
BAGS
(Bags that can be used with a vacuum sealer VCC02)
Vacuum Sealing

Flat type vacuum seal bag

Glass Bags

Hot Bags

Cool Bags

Foil Bags

Aluminum Bag

Brown Craft Bag

White Craft Bag
STEP BY STEP(Vacuum Sealing Procedures)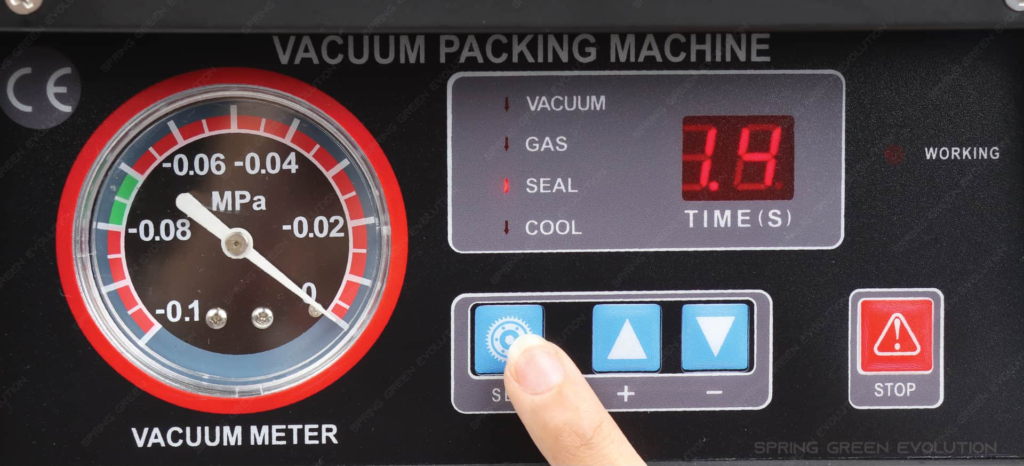 1. Set the time for the vacuum seal and cooling time value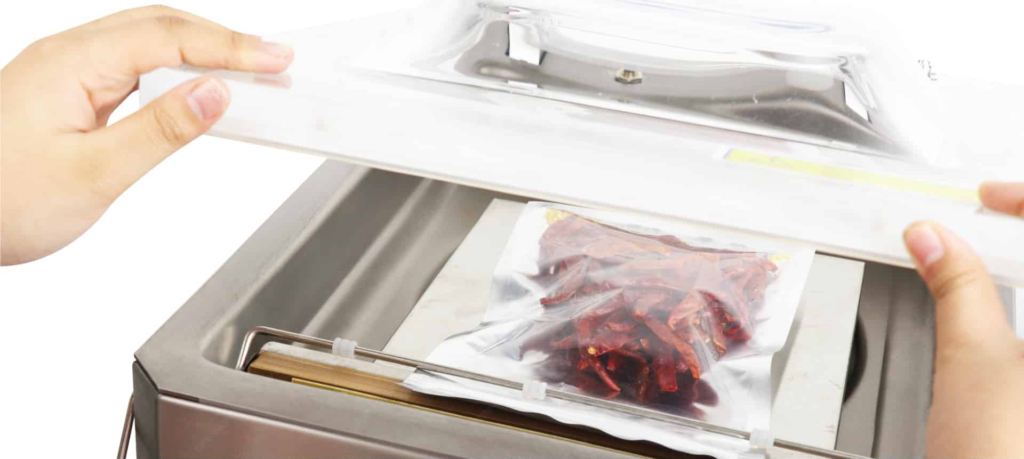 2. Put the prepared ingredients in the bag. Placed on the seal strip in the vacuum chamber.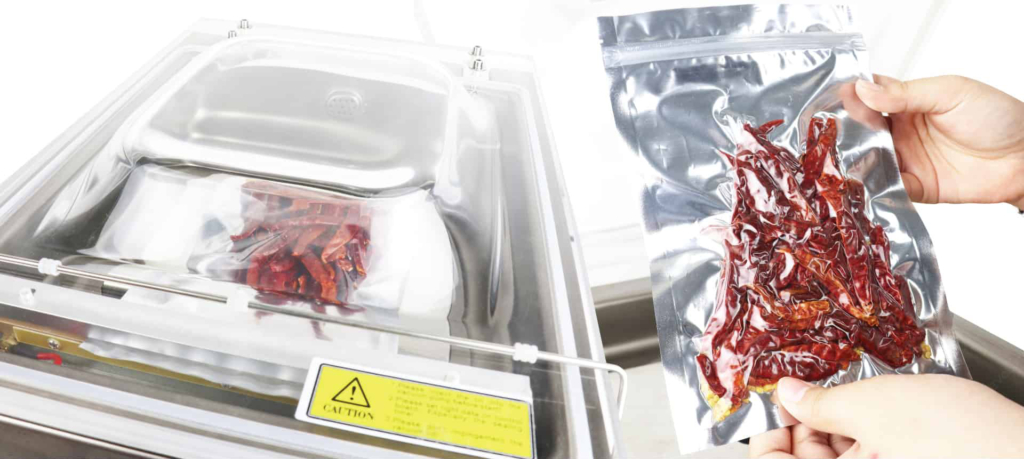 3.  When closing the acrylic cover, the switch will automatically start working. Cover the lock on the acrylic cover to prevent the lid from loosening.
SAMPLES(Example of Vacuum Sealer)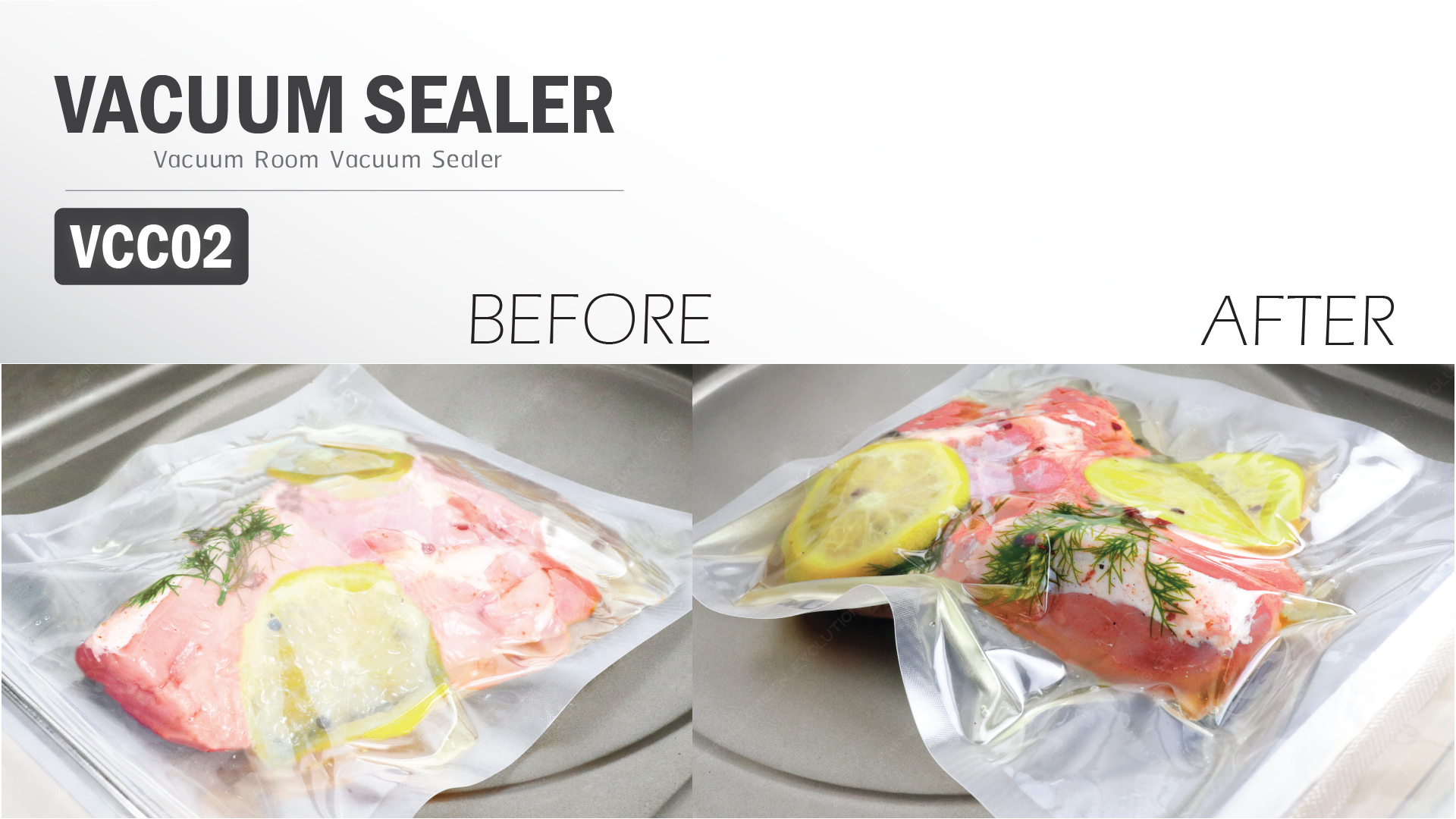 The experiment was to seal fresh food in the sample picture, pork. The result was satisfactory.

Coming to our hero, Seal, Chili Sauce and Curry Seal are all universal.

Try to seal the powdered product. Able to seal quickly, nicely.

Always try to seal products that are dry, dry, without air, crispy.
WHAT IN THE BOX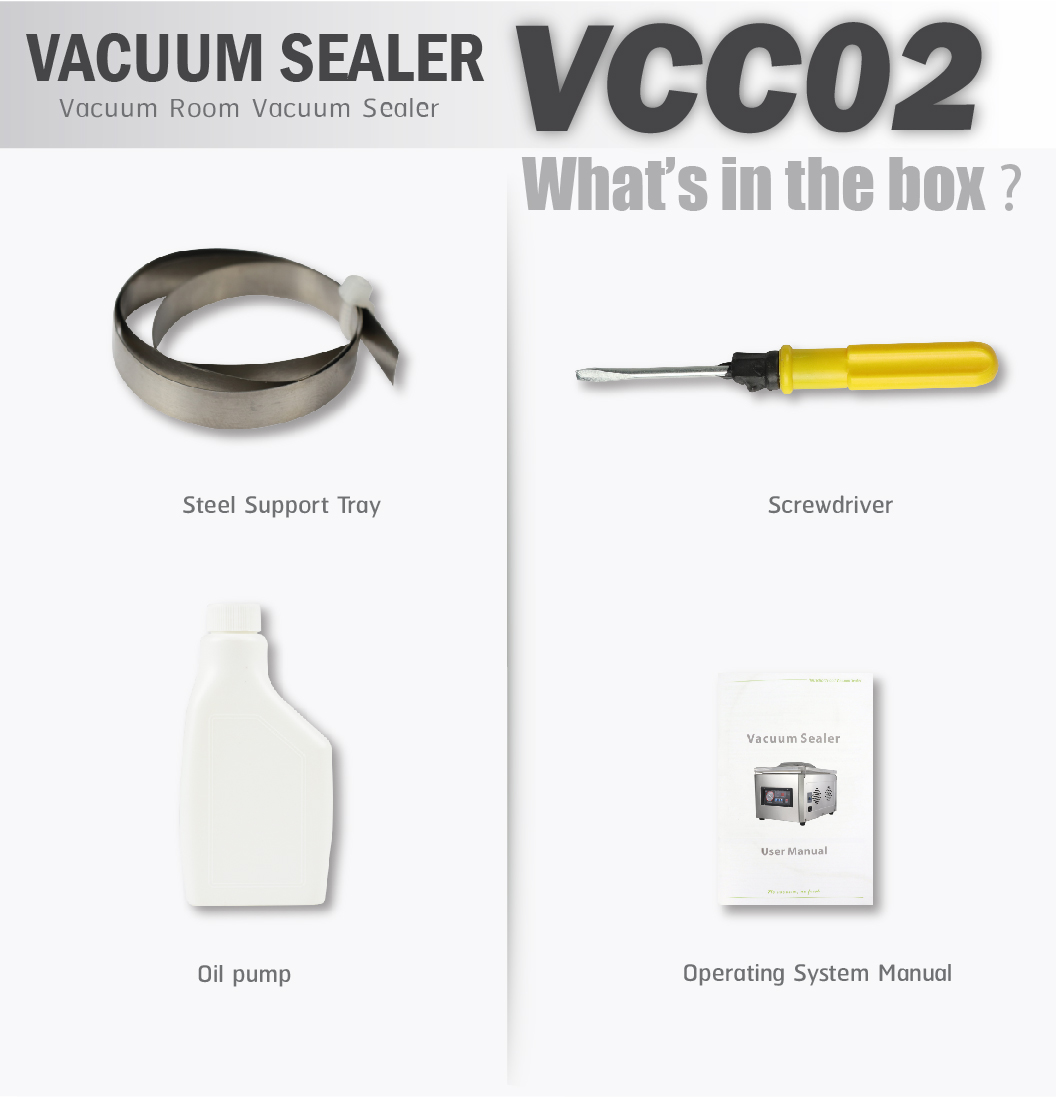 CAUTION 
If you want to seal products that are cream or liquid, the time should be set for no more than 15 seconds. Otherwise, the liquid will flow out of the bag and cause damage.

The machine and the interior of the sealing room should be cleaned after every use. Because if the machine is dirty, it may cause the circuit board to be shocked or clogged.

The vacuum sealer VCC02 can be used continuously. However, it's recommended to take a break after 3 hours to reduce sealing line heat

Should keep cleaning the seal strip To prevent the seal strip from burning 

The vacuum pump oil should be changed every 2-3 months
FAQ (Frequently Asked Questions)
Can this machine be used with products that have sauce/water?
–  Can be used but should be cleaned after every use And be careful not to allow the sauce/water into the machine too much.
Can this machine be used with powdered products?
–  Can be used but should be cleaned after every use to prevent debris clogging
How long is the warranty? Have any spare parts changed? And which item is deteriorating quickly?
– We have a 1-year product warranty for this model. Product warranty details do not cover wear and tear such as seal strips, Teflon tires.
– Parts that wear out quickly are parts that require heat all the time, such as sealing strips, Teflon rubber bands.
WARRANTY
(Product Warranty Conditions)
Warranty for a new device from the date of purchase is 1 year. This warranty does not cover any products or parts. That has been damaged or damaged due to
1. There are abnormal conditions in the form of a broken, broken, chipped, bent, collapsed, deformed, cracked, pierced, missing part.
2. The product has been modified, or repaired by someone other than the company service center.
3. There is a condition that should not occur with normal use or incorrect storage, such as water stains, rust marks, moss, burns
4. Products have been used incorrectly or have incorrect storage. Or an accident with the product
5. Damage caused by connecting peripherals
6. Product damage due to external factors such as power failure, overload, lightning etc.
7. Damage caused by natural disasters
8. Damaged products resulting from neglect not to clean after use
*** Note
– If the product is not within the warranty terms, customer can send the machine to our service center to repair at a cost
HOW TO ORDER
 Order by phone at: (+65) 88914519
CONTACT US
Spring Green Evolution Pte Ltd
Showroom: 66 Tannery Lane, Sindo Building, #04-09. S347805
Telephone/WhatsApp: (+65) 88914519. Email: info@sgesg.com
Facebook: www.facebook.com/SGEsg
Website: www.sgesg.com