Description
The vacuum sealer VC01 is the most affordable model.

Small size, easy to carry.

Compatible with embossing seal bags, both roll and sheet type.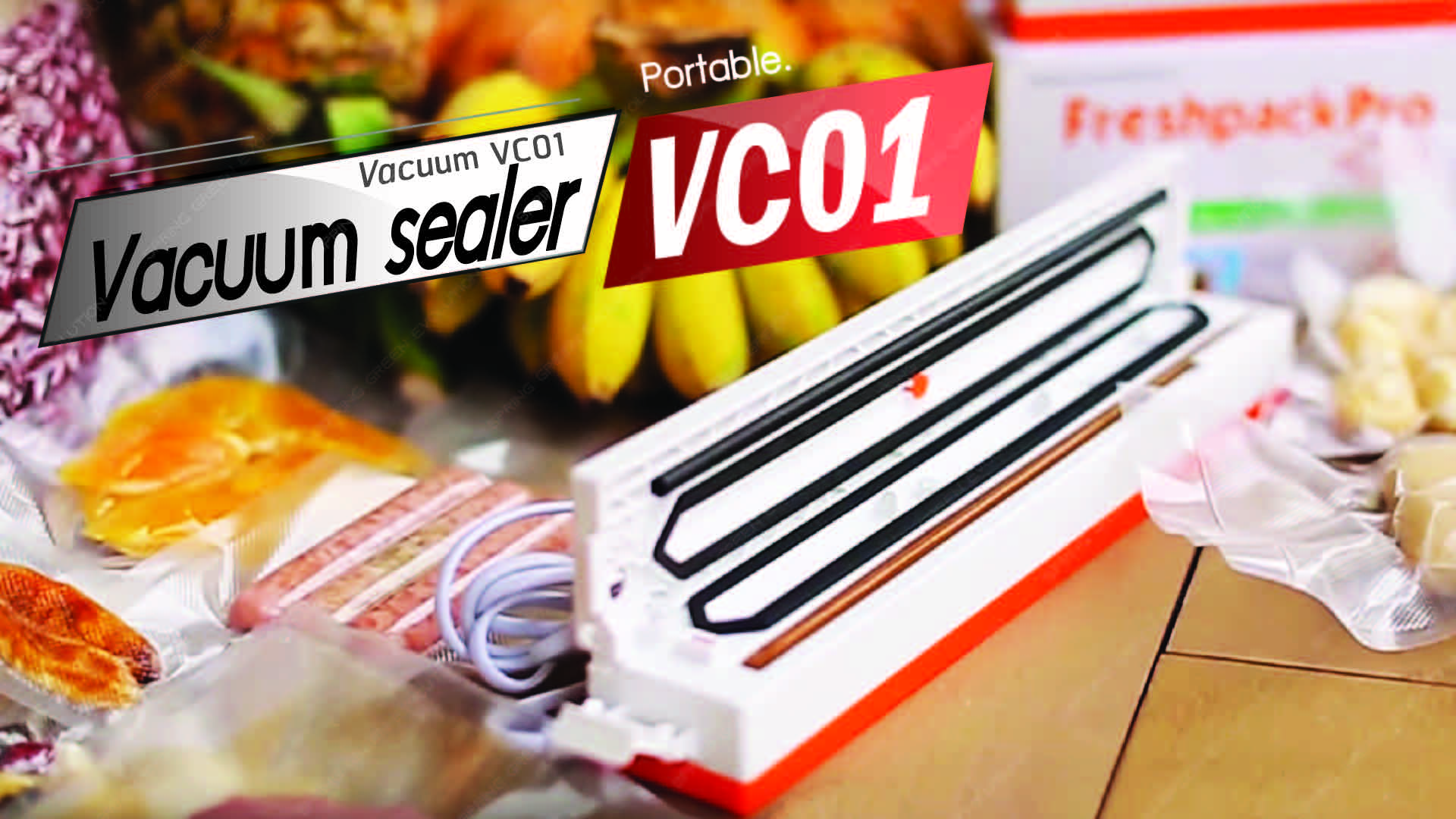 In addition, VC01 can also be used as bag sealer without having to vacuum seal.
The vacuum sealer model VC01 is designed to be used with embossing vacuum seal bags only and suitable for DRY seal only
TVC (Product Introduction Video)
ACTUAL SIZE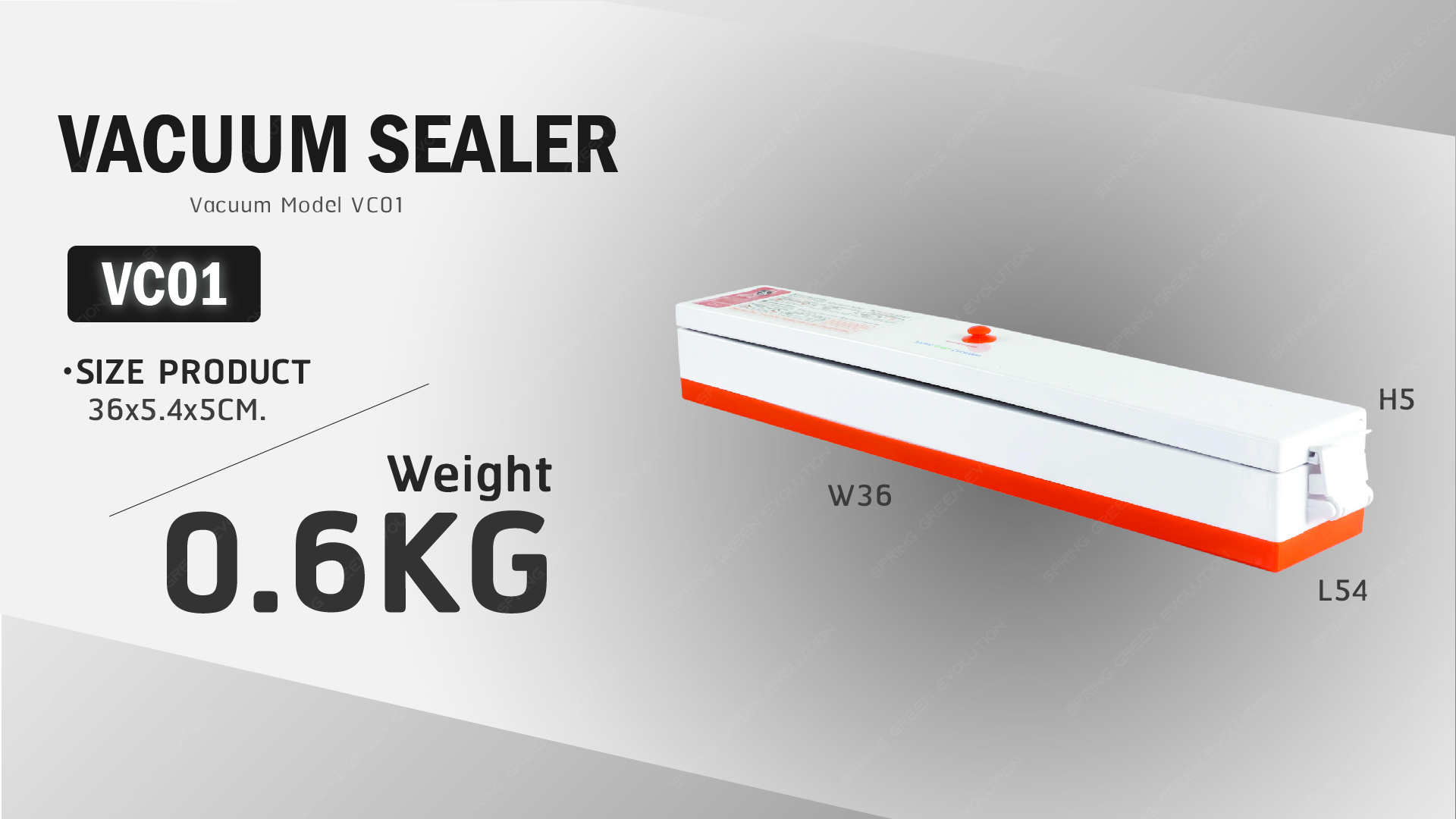 FEATURES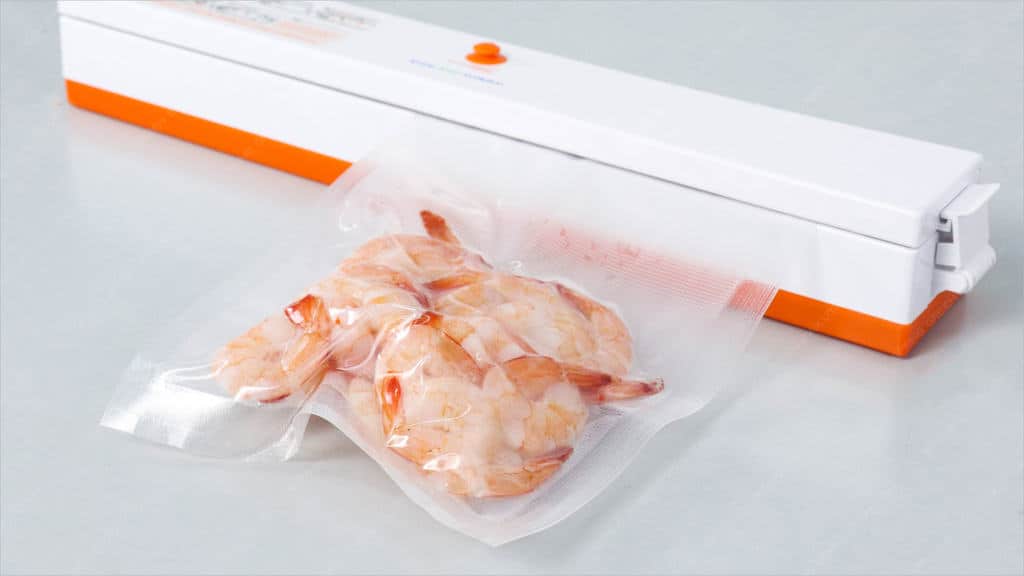 Extend food shelf life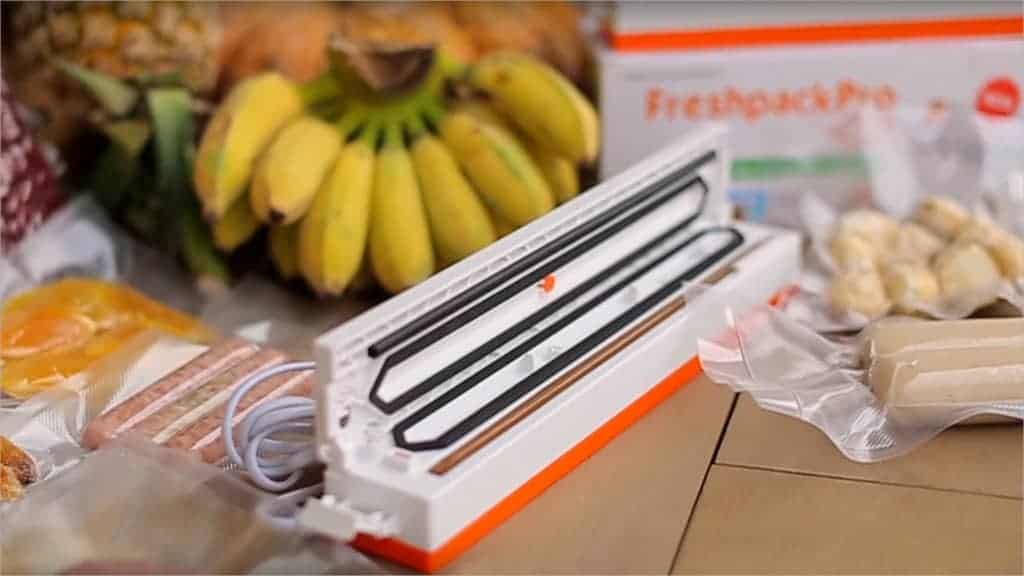 Can be used with a variety of foods such as meat, fruit, dry food, cereals, and more.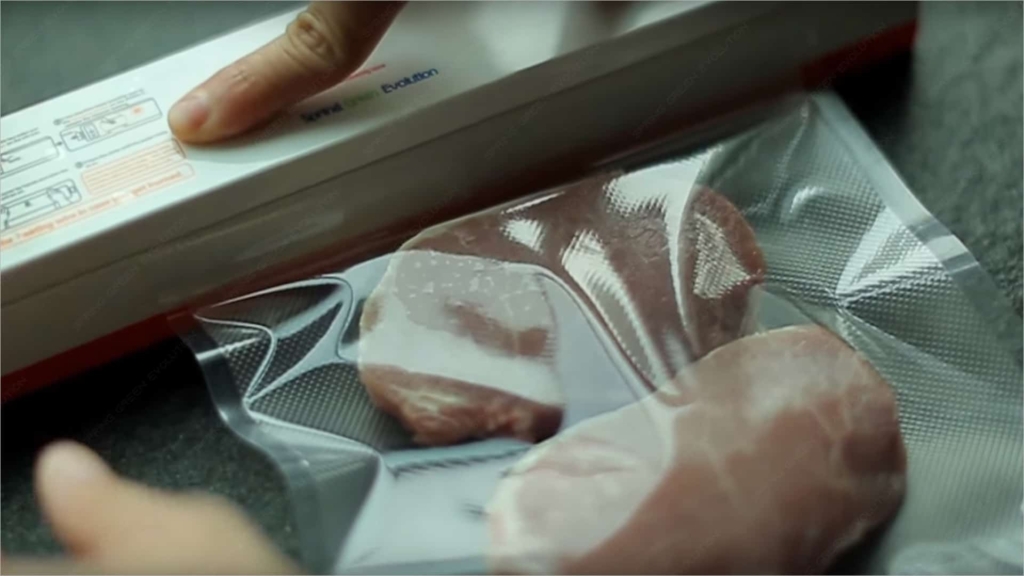 Save space for storing food, helping to keep things organized in cabinets or refrigerators.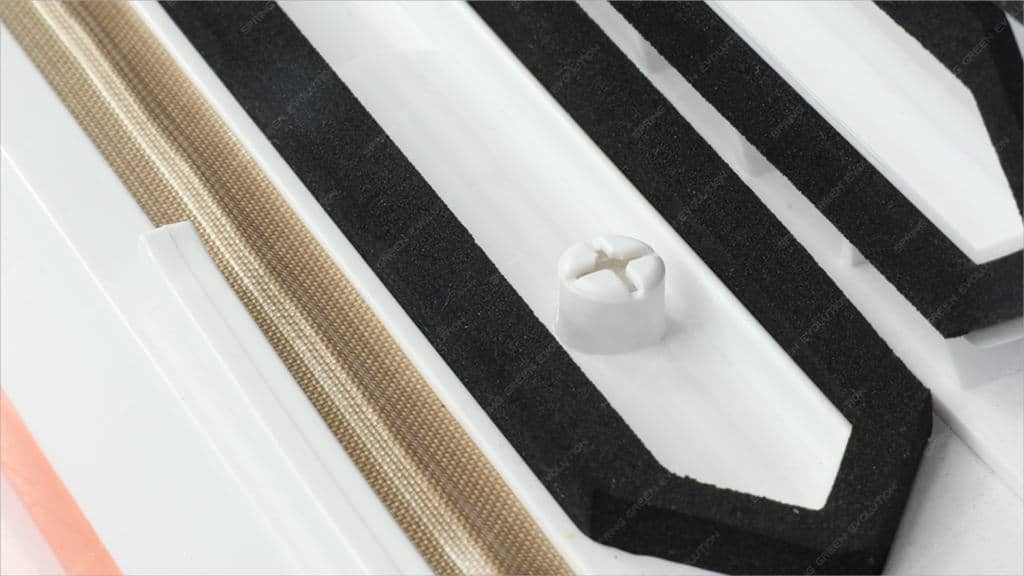 Large vacuum suction compartment fastens vacuum process.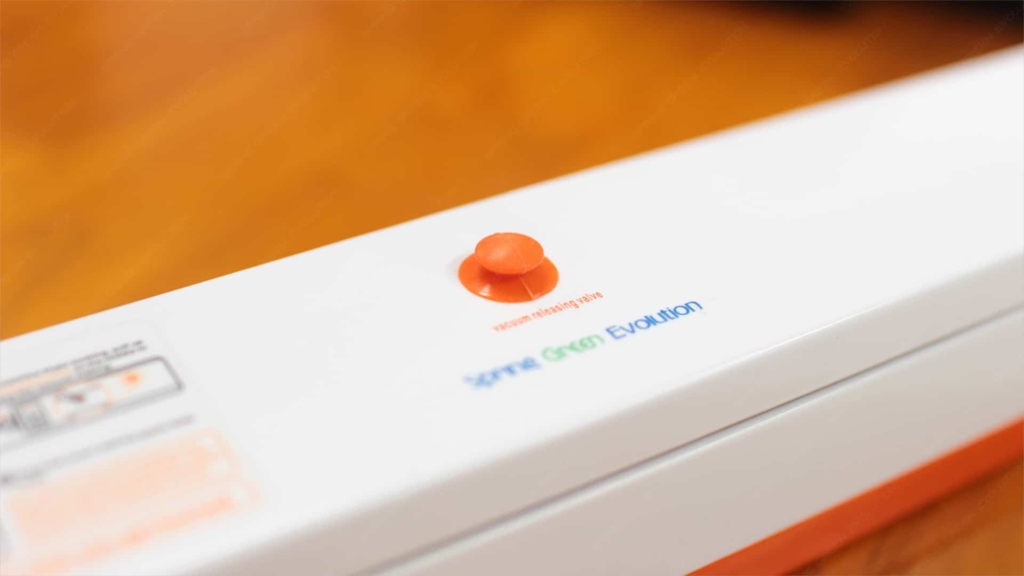 Air release plug after the seal is finished.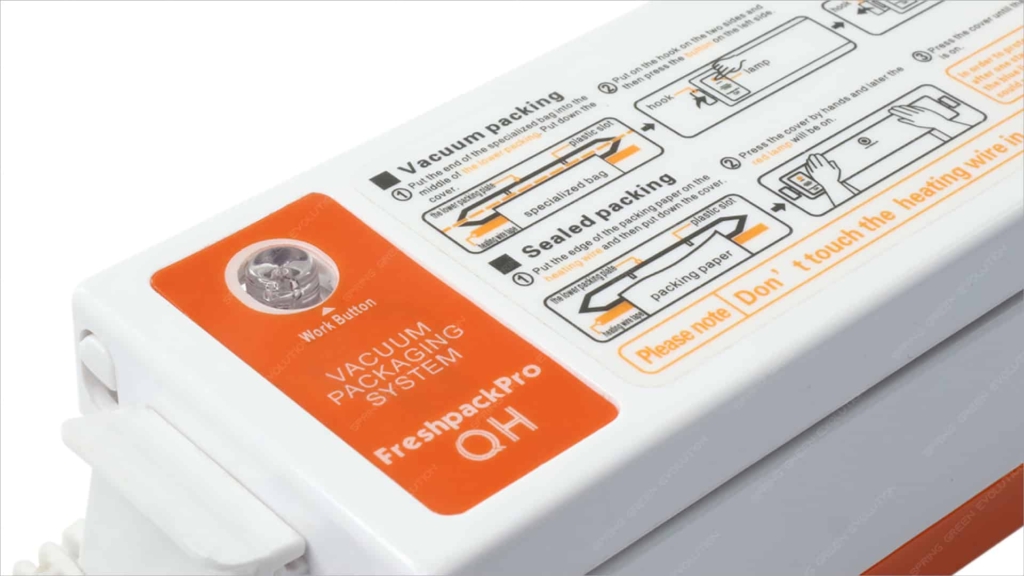 Alarm light indicating the operation of the machine.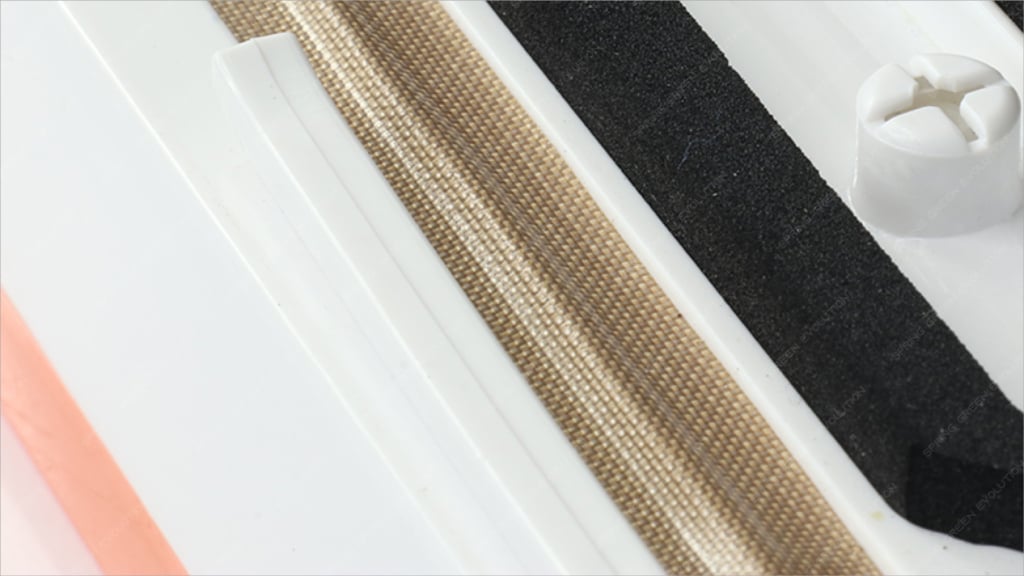 2 mm seal strip, allowing the bag to be closed
Our vacuum sealer There are many more to choose from.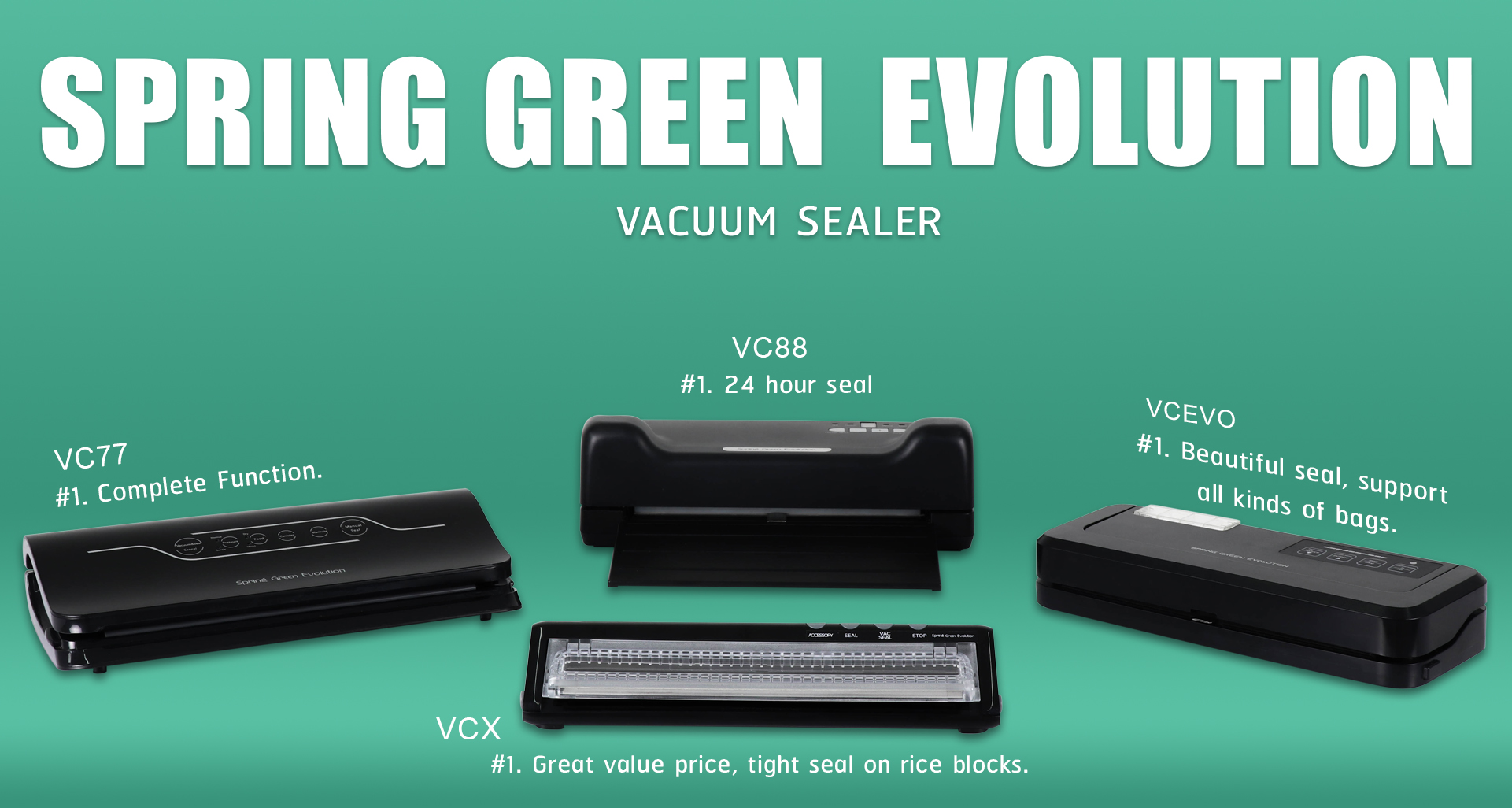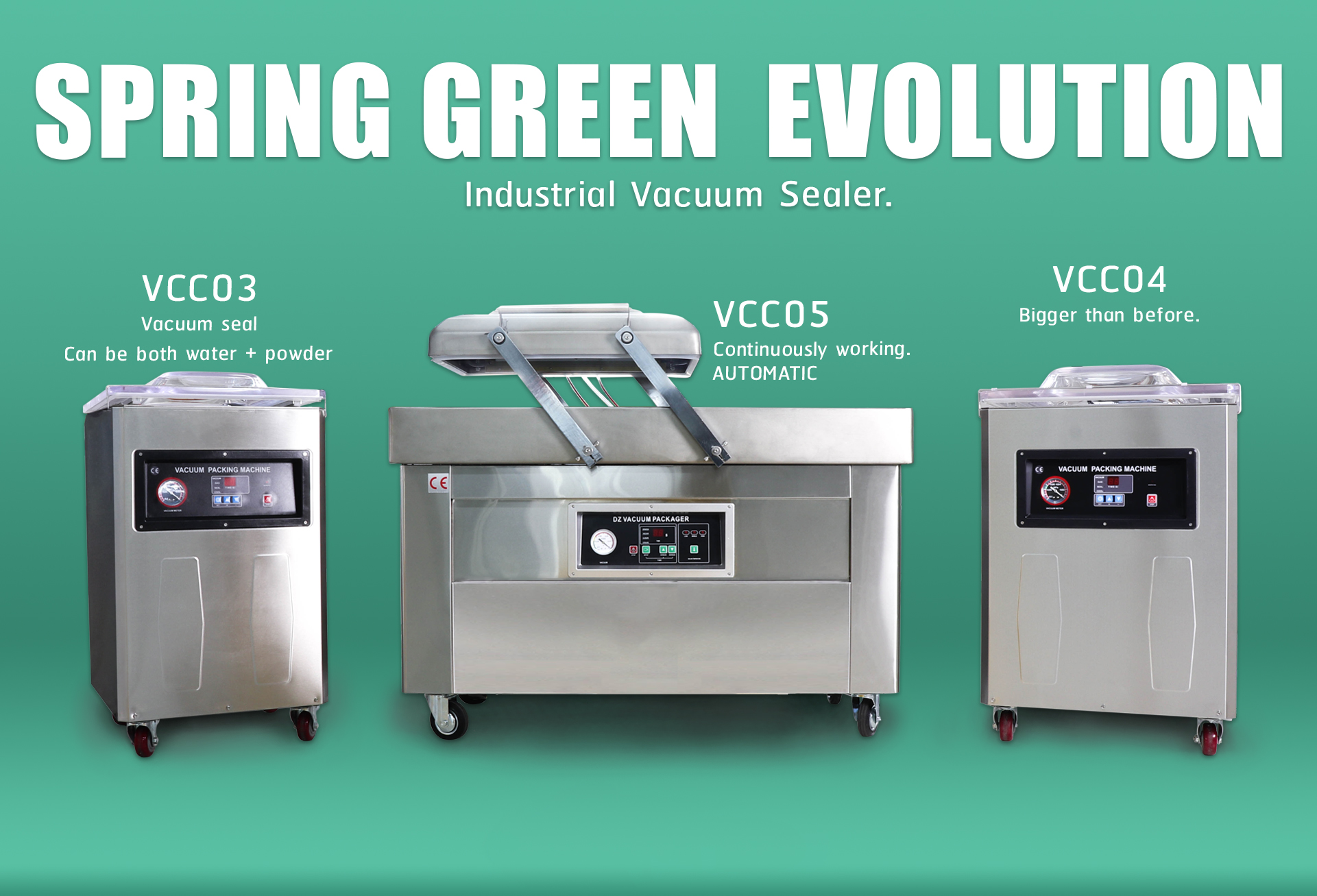 WHY US? What makes SGE Vacuum the best.
6 months product warranty

7-day replacement warranty.

An experienced team to look after and advise throughout the use.

Technician team ready to support and solve any problem

Stock spare parts to support your order anytime

Nationwide delivery

Product assessment before shipping.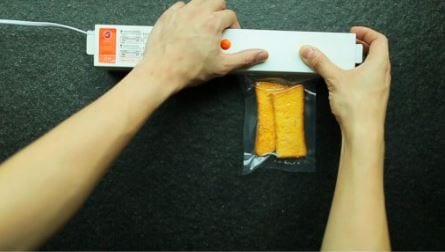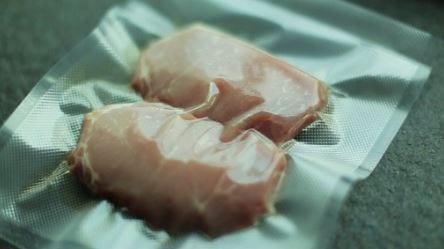 HIGHLIGHTS 
Lowest price,

suitable for new users

Prevent food from being directly exposed to the air maintain food quality Can be stored for 3 times longer.

Vacuum sealer works with all types of food such as meat, fruit, dry food, cereal

Save space for storing food and orderly in the refrigerator.

Reducing the smell of food caused by storing various kinds of food in the refrigerator.

Beautiful machine design 

The side locking system prevents leaks. Easy to use, just move the button

The width of the seal strip can be up to 25 centimetres.
SPECIFICATION 
| Details | Information |
| --- | --- |
| Vacuum sealer | VC01 |
| Current | 220 V or general home power |
| Electric power | 100W |
| Body size outside | 36 x 5.4 x 5 |
| Bodyweight | 0.6 kg. |
| Air pressure | ( – 0.8 bar ) |
| Supported bag size | 30cm |
BAGS (Bags used in conjunction with VC01)
Vacuum seal:

embossing vacuum seal bag

Bag sealing: hot bags, cooler bags,

embossing vacuum seal bags, smooth vacuum seal bags
HOW TO USE?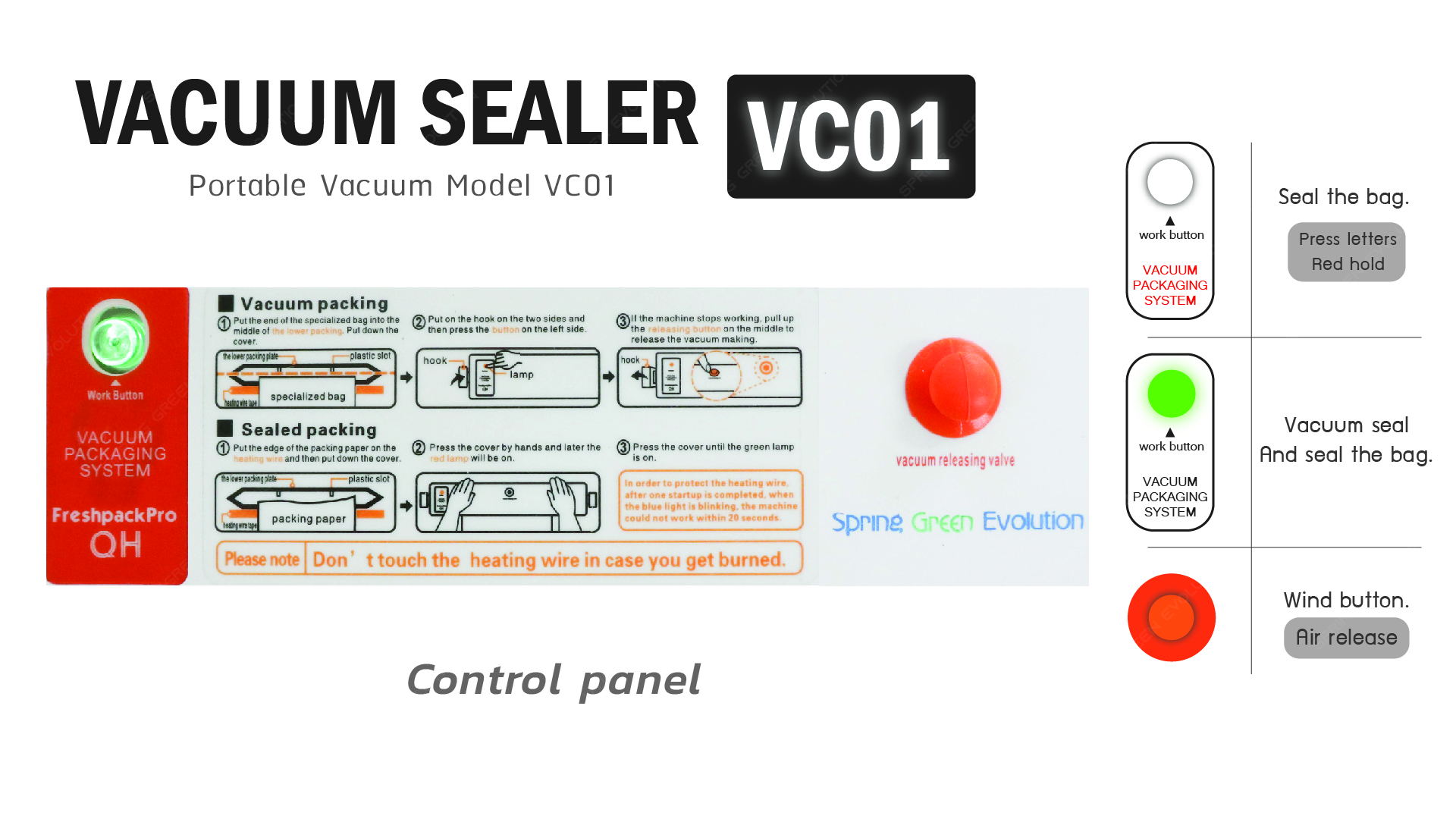 STEP BY STEP (product sealing procedure Vacuum machine)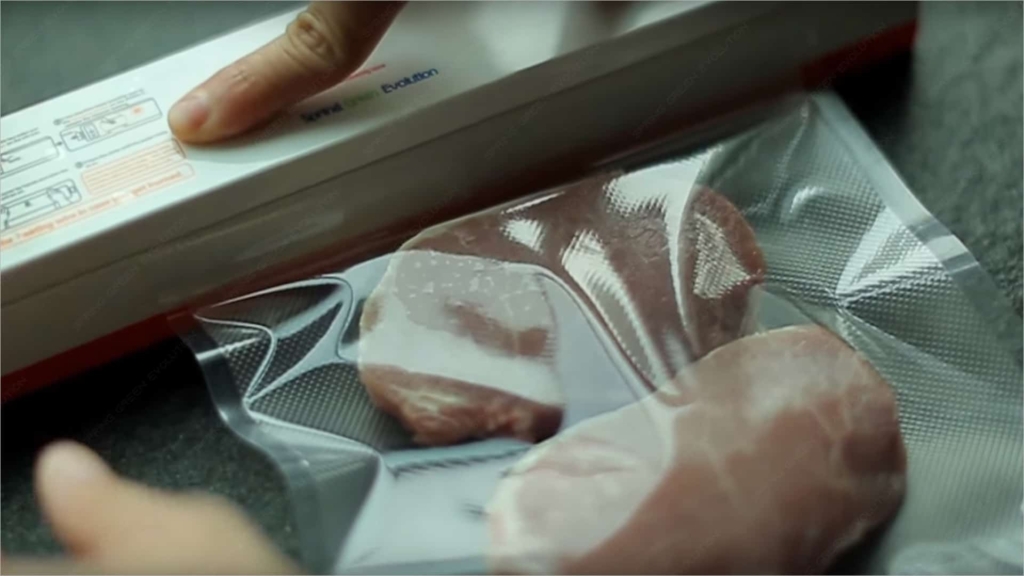 1. Place the product in the bag. Open the lid to put the bag into the vacuum suction compartment.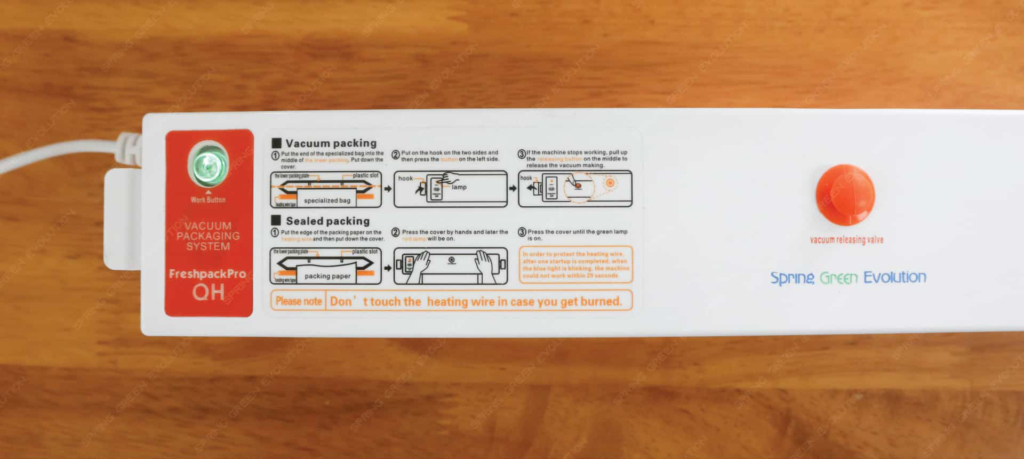 2. Close the lid, lock the side door. Press the green button to start. Use the hand to hold down the lid. For faster vacuum suction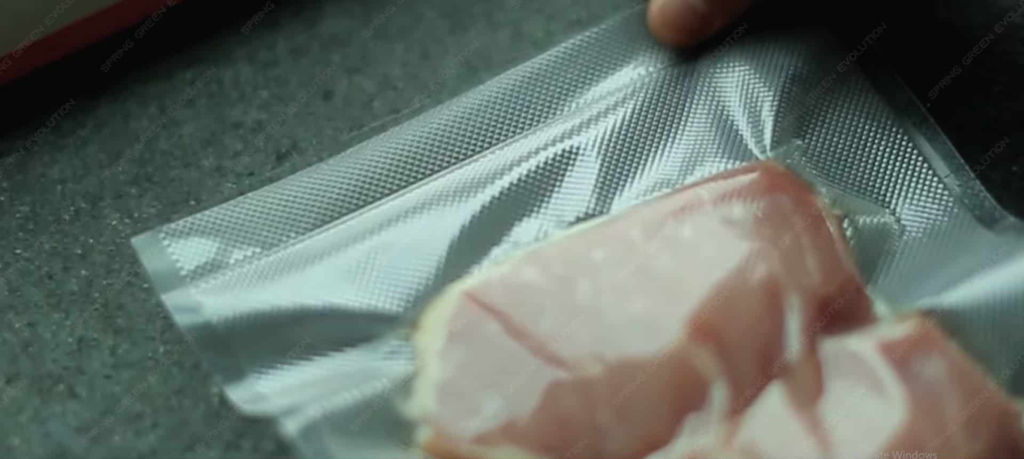 3. Wait until the light is red.
SAMPLES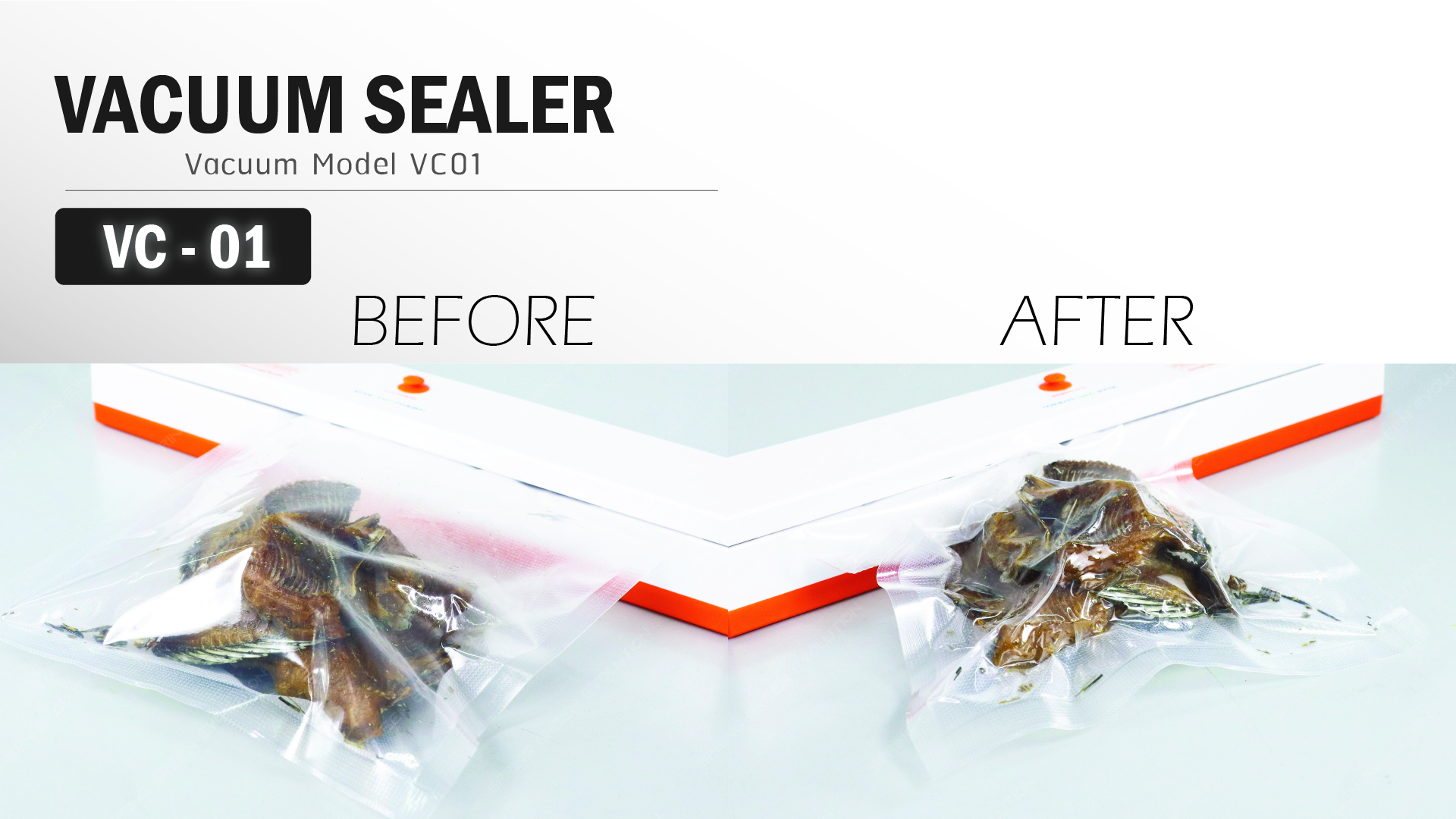 Crispy fish before vacuum seal / After vacuum seal, all air is out, save space

Chicken breasts before vacuum sealing / Fresh chicken breast after vacuum sealed

Dried banana before and after sealing
WHAT IN THE BOX (What's in the box?)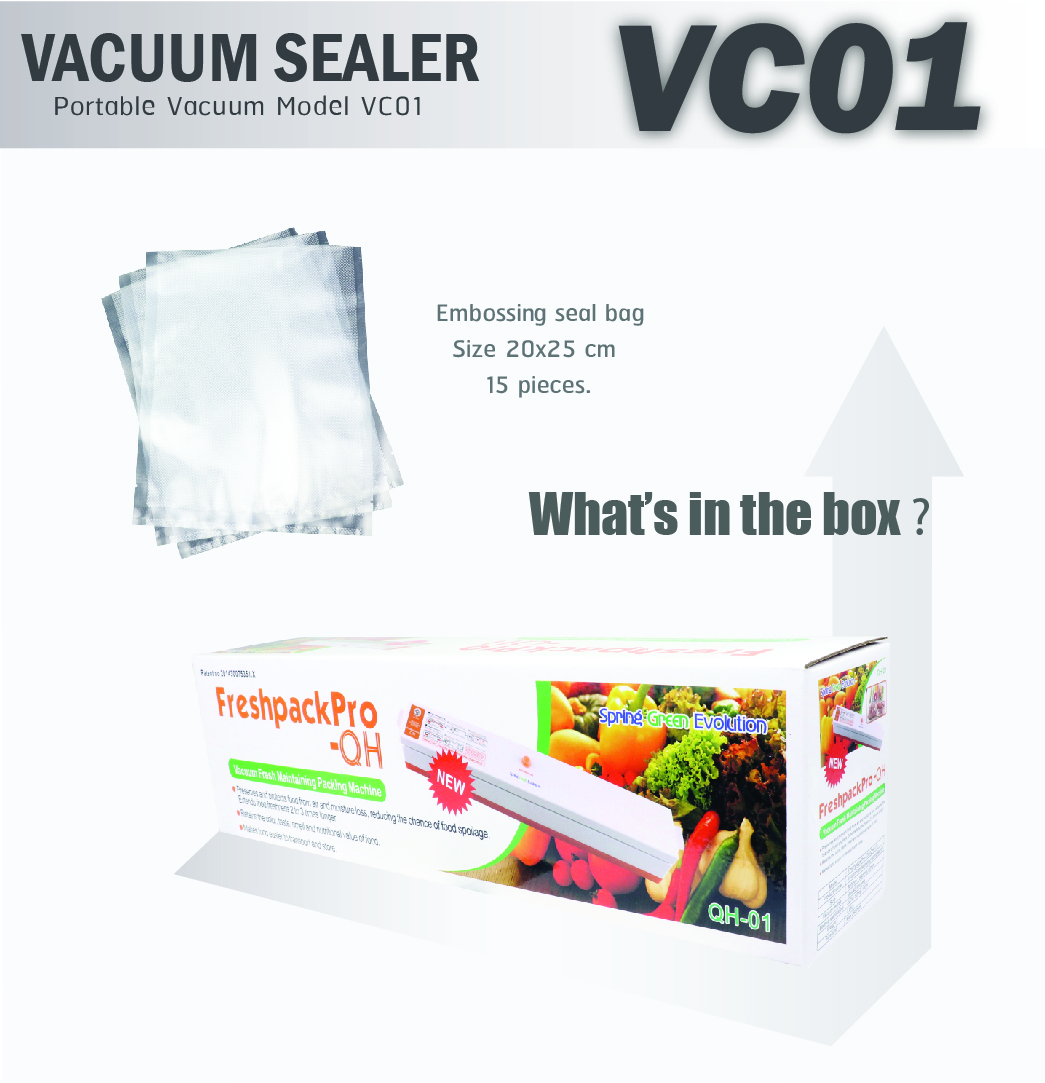 Demonstration video Vacuum pump VC01
CAUTION 
The size of the bag and the product inside the bag should be relative. If the bag is too large The suction tongue will be attached to the bag causing suction. 

Clean the machine And the inner vacuum seal chamber after every use to prevent clogging

Allow the machine to rest every time during use for 10-15 seconds to preserve the device

Do not use with water products. 

Clean the seal strip to prevent the seal strip from burning resulting in unable to seal bag

If the Teflon seal strip starts to burn, replace immediately
WARRANTY
(Product Warranty Conditions)
Warranty for a new device from the date of purchase is 1 year. This warranty does not cover any products or parts. That has been damaged or damaged due to
1. There are abnormal conditions in the form of a broken, broken, chipped, bent, collapsed, deformed, cracked, pierced, missing part.
2. The product has been modified, or repaired by someone other than the company service center.
3. There is a condition that should not occur with normal use or incorrect storage, such as water stains, rust marks, moss, burns
4. Products have been used incorrectly or have incorrect storage. Or an accident with the product
5. Damage caused by connecting peripherals
6. Product damage due to external factors such as power failure, overload, lightning etc.
7. Damage caused by natural disasters
8. Damaged products resulting from neglect not to clean after use
*** Note
– If the product is not within the warranty terms, customer can send the machine to our service center to repair at a cost
HOW TO ORDER
 Order by phone at: (+65) 88914519
CONTACT US
Spring Green Evolution Pte Ltd
Showroom: 66 Tannery Lane, Sindo Building, #04-09. S347805
Telephone/WhatsApp: (+65) 88914519. Email: info@sgesg.com
Facebook: www.facebook.com/SGEsg
Website: www.sgesg.com